Research Field :

Physics

E-mail :
Specific Research Topic :

Meteorology, Geophysical, Fluid Dynamics, Planetary Atmospheric Sciences, Computational Physics

Research Description
I study spontaneous atmospheric gravity wave radiation from unsteady vortex motions, such as from jet-front systems, cyclones, and hurricanes, using simplified numerical models. I also study "super rotation" in the atmosphere of Venus using the atmospheric general circulation model for the Earth simulator, AFES-Venus.
Material
(lightbox)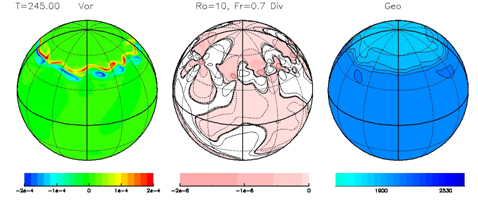 Snapshot of spontaneous atmospheric gravity wave radiation (right panel) from an unsteady jet stream (left panel) in a simplified numerical model of the Earth's atmosphere.
(lightbox)
Our data assimilation system will be the first to produce reanalysis data for the Venusian atmosphere.
Selected Journal Publications
Collaborative Research Recruitment
All kinds of numerical and theoretical studies related to Geophysical Fluid Dynamics and Planetary Atmospheric Sciences.
Hobby
Tennis, Climbing, Snowboarding, Skiing, Wine